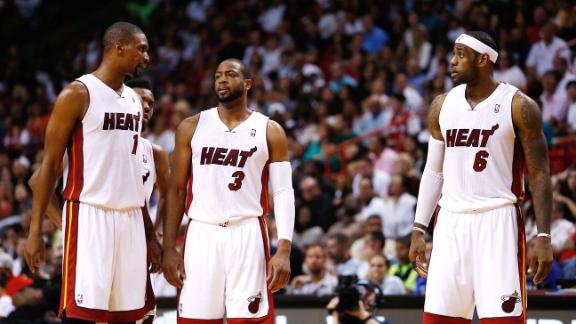 After agreeing to all opt out of their contracts together, Miami Heat stars LeBron James, Chris Bosh and Dwyane Wade have been discussing financial terms of new contracts among each other, sources told ESPN.com.
Bosh's agent, Henry Thomas, said he told Heat president Pat Riley of Bosh's decision to opt out on Sunday afternoon. Wade's decision came Saturday, and LeBron's on Tuesday. The deadline for the players to declare free agency is midnight Monday
More From ESPN.com
Now that the entire Big Three has opted out, what's next in Miami? ESPN.com's team of writers takes a look. 5-on-5
The talks between the three players is the strongest indication yet that James plans to re-sign with the Heat after he becomes a free agent on Tuesday. Unlike in 2010 when all three took nearly identical contracts, the discussions this time have included the possibility that James would draw the highest salary among the three, sources said.